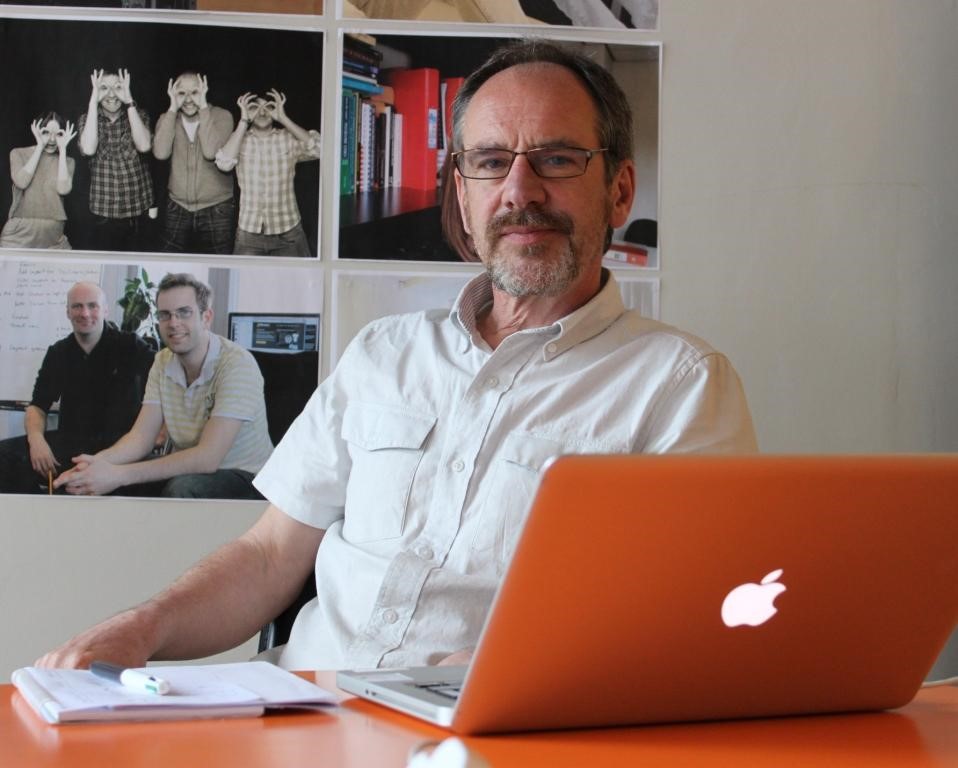 Recently the Halifax Courier Covered TOAD® Diaries in an in-depth interview with the founder Tim Grinsdale. If you'd like to know what inspired the creation of TOAD®, and some of the quirks of the owner, then read on!
Halifax Courier – Business Focus – Tim Grinsdale
Tim Grinsdale is the Director of TOAD Design Group, based in Brighouse. Affectionately known as just 'TOAD', the company specialises in the design and manufacture of personalised and customised stationery items such as diaries, journals and planners.
Why did you start your business in the first place?
I remember wanting a diary. It was a pretty simple request, except it was March. There were a lot of offers on in stores, but it seemed like a waste not to use the first few months of the January-start diary. I knew exactly what I wanted, a diary of a particular format that started when I wanted and went on for how long I wanted. I thought, surely there must be other people with the same problem, but nobody was doing anything about it, so TOAD was born with the concept of the 'Date-Flexible Diary'.
I've always felt that individual, tactile activities such as scribing, drawing, writing, are incredibly important for the younger generation. A good deal of robust science now supports this view, such activities are believed to ''fire off' parts of the brain that would otherwise be underused and so help young minds to develop a wide range of skills.
What is your business motto?
To delight and surprise! Our primary method is by being innovative and redefining consumer choice, such as with our range of unique Date-Flexible Diaries. We don't just want to be a 'me too' business that follows the trends of others.
What advice would you give to anyone starting their own business?
Build and test your financial business model thoroughly. Understand your costs, variable and fixed, be conservative with your revenue forecasts; above all, maintain an accurate cash-flow model. Finances come first, so it's best to stress-test your new company on paper before having to do it in real life!
What was the biggest challenge you faced starting your business?
The problems of working effectively with third parties to fulfil our orders. TOAD had a great e-commerce model when it started but was vulnerable to the performance of its fulfilment providers. Unfortunately, they failed too often to meet our quality and service level expectations, and thus impacted our own customers. We went through three suppliers and, in the end, decided to invest in equipment and do it ourselves. It was scary to begin with, but has turned out to be one of the best decisions we have made. We now have a full bindery operation, resourced by our own staff, each with many years' experience in the bookbinding industry. This has given us total in-house control and means we deliver consistent quality and rapid delivery times to all our customers.
What do you enjoy most about being self-employed?
It's seeing an idea come to life. You start with something in your head, a concept that gets talked through with your team, and then turned in to something real and tangible that you can deliver. Knowing you have the ability to do that is most empowering.
What do you enjoy least about being self-employed?
It's a common problem, as I'm sure many business owners would agree, that is dealing with the day-to-day minutia to maintain financial viability. My immediate aim is to get TOAD® to a place where it's got strong working capital behind it, is well administrated, and allows me more time to focus on strategy and business development.
Which business figure do you most admire and why?
I'm not really a trend-follower of people in the business world. However, I'm a huge admirer of the 'everyday' business person, working with passion and dedication, often against the odds, to make his or her business succeed. Whatever their line of business, I know how the hard work and tenacity that goes into making it work.
What achievement in your career are you most proud of?
I'm particularly proud of how we managed to save our business after recently going through some really tough times. Due to external circumstances, not of our own making and very much beyond our control, we were forced to move premises. We incurred huge costs that would have sunk most companies of our size. But we would not be defeated - we as a team found we had the collective courage and faith to put in the hours and to rise from the ashes. We now have our own premises, all our own equipment and a renewed sense of purpose. Most important of all, I'm sure we have the best team spirit in the county!
Where do you see your business going in the next five years?
I believe it's realistic to predict that TOAD will be a national brand. We already sell across the country but want to be more recognised for our differentiating products, customer service and quality values. We aim to expand our reputation for providing customers unprecedented freedom to choose, which will be enabled by building on our existing proprietary technologies. We also hope to develop an increasing overseas presence within the next 3-5 years – the only constraints are those we put on ourselves.
If you could invent one new product, what would it be?
An alternative to Lego! It's such a simple concept, but it's so fun and creative that anybody can enjoy it. Actually, I have such an idea but I'm keeping hush about it!
If you could work for one company, who would it be and why?
I love everything to do with space and cosmology, so any company that is playing a part in the exploration of space. Whether it's Virgin Galactic or Blue Origin or SpaceX, being part of that team would be amazing.